Exercise your services efficiently with our ERP Software for Services Industry
Know your Leads and Customers, set up subscription plans for your services. Build rapport with regular Customers using a Loyalty Program. Manage and bill multiple projects, set up maintenance schedules and visits to run your services industry better.
Enhance logistics in your Services business
Running a Services business has its own challenges. One can argue that often it is more challenging than running a products company. Providing hosting and support services ourselves, we are familiar with some of the pain areas.
ERPNext covers a multitude of features to help run your services business with some ease. Run campaigns for increased customer acquisition, create subscriptions for your services, reward regular Customers with Loyalty Points, manage projects, Issues, and Service Level Agreements. There are also options to set maintenance visits and schedules.
Manage your Customers
Assign dedicated Account Managers, Tax IDs and tax categories for automatic tax calculations. Use different currency for your Overseas Customers and the exchange rates will be calculated automatically.
Store multiple contacts, emails, and phone numbers against a Customer. Setting a Credit Limit on Customers prevents further Sales Orders if the Customer already has a big tab. Set up a loyalty program to build rapport with your Customers.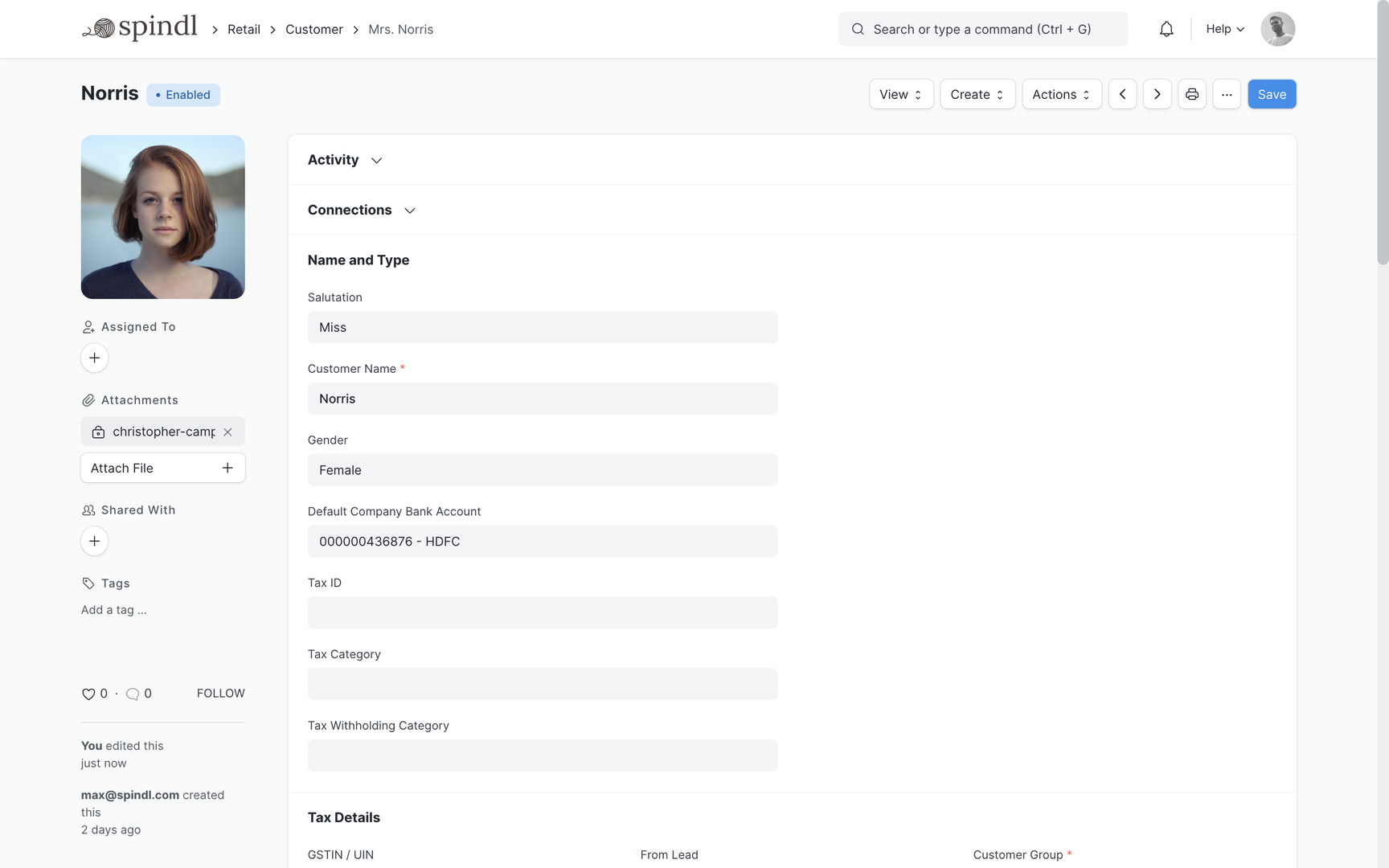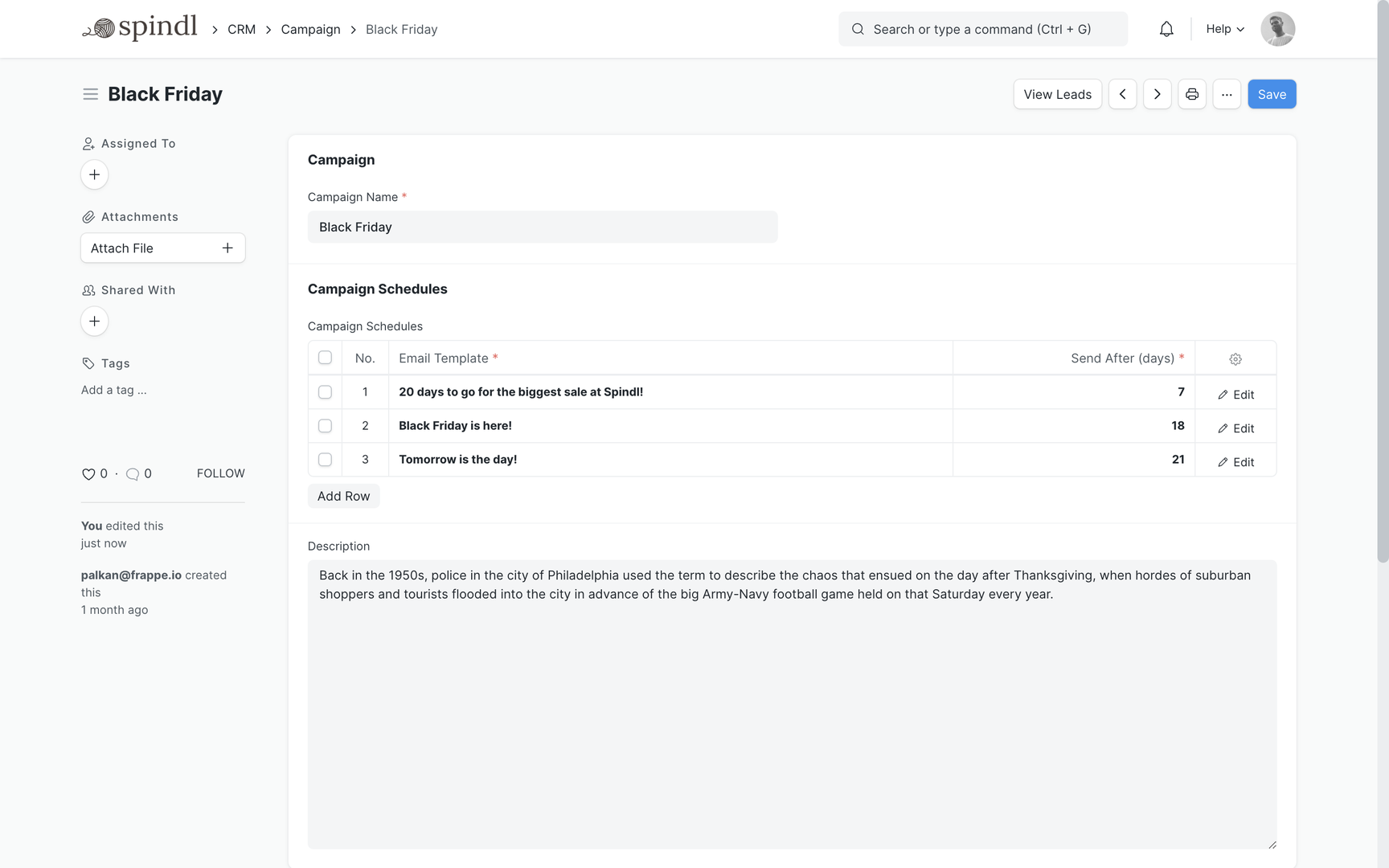 Campaigns
Customers Acquisition can be difficult especially when you're starting out. With the ERPNext Campaign feature, send emails to multiple leads and manage the threads separately.
Subscription
Set up different subscription plans and assign them to Customers. Set a trial period for your subscriptions. Taxes and discounts can be added to your subscriptions just like any other regular Item. The subscriptions can be repeated at varying intervals, daily, monthly, or once per few years.
After the trial, invoices will be generated automatically.
Project Management
Manage internal and external projects with great efficiency. Bill your Customers for the employees you've sent to their site using Timesheets. Create and track tasks to keep the employees on their toes during an important/big project.
Gannt Charts and Kanban help you track and visualize the tasks for a holistic view and easy reading.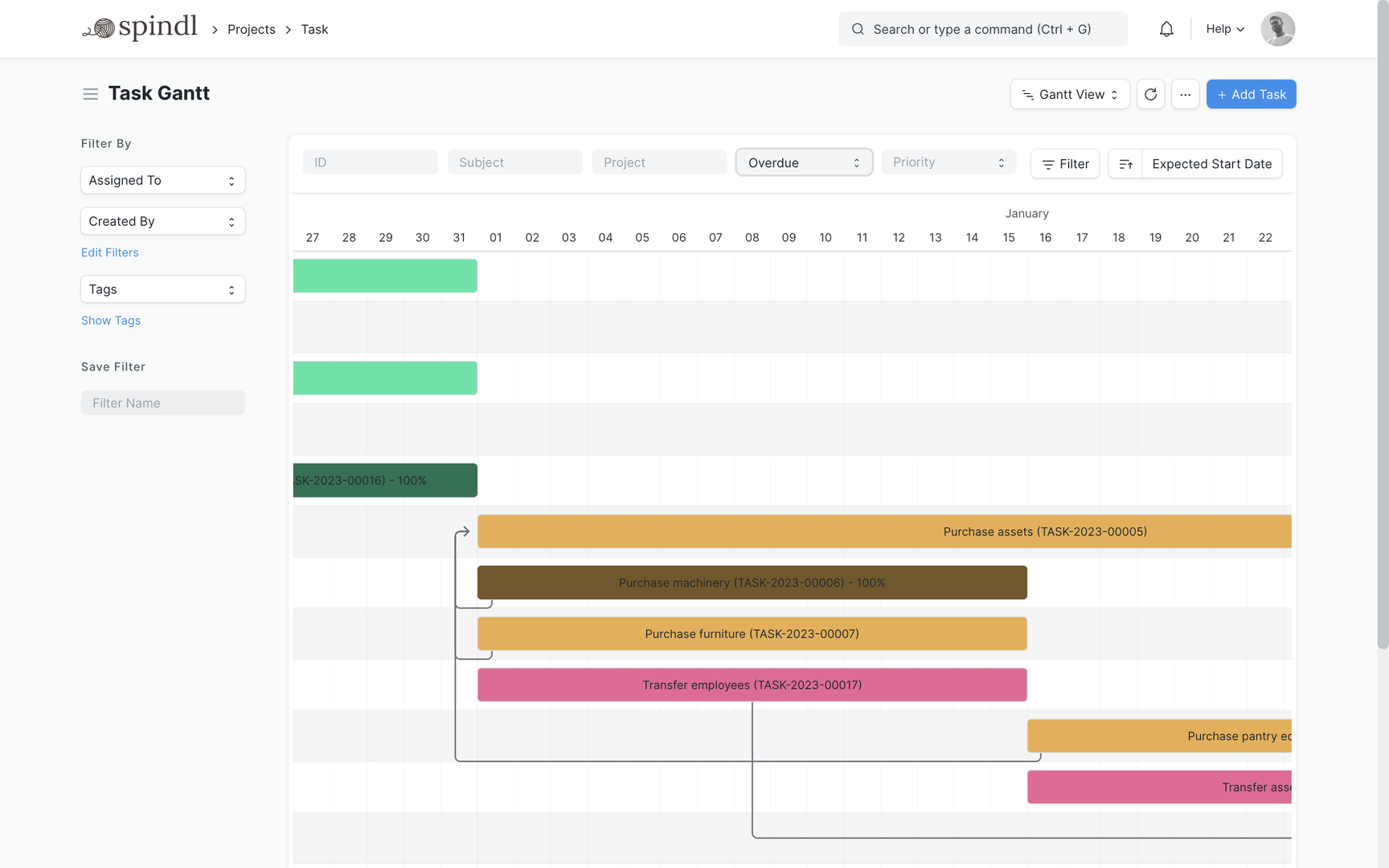 Helpdesk
Usually, a services Company will get more Issues than a product company. We understand this and have features to organize and manage the incoming Issues.
With features like 'Append To', Issues are automatically created in ERPNext when Customers email issues to a configured email address. Classify issues by leads, projects, or Companies. Record quality with minutes to first response and service level agreement.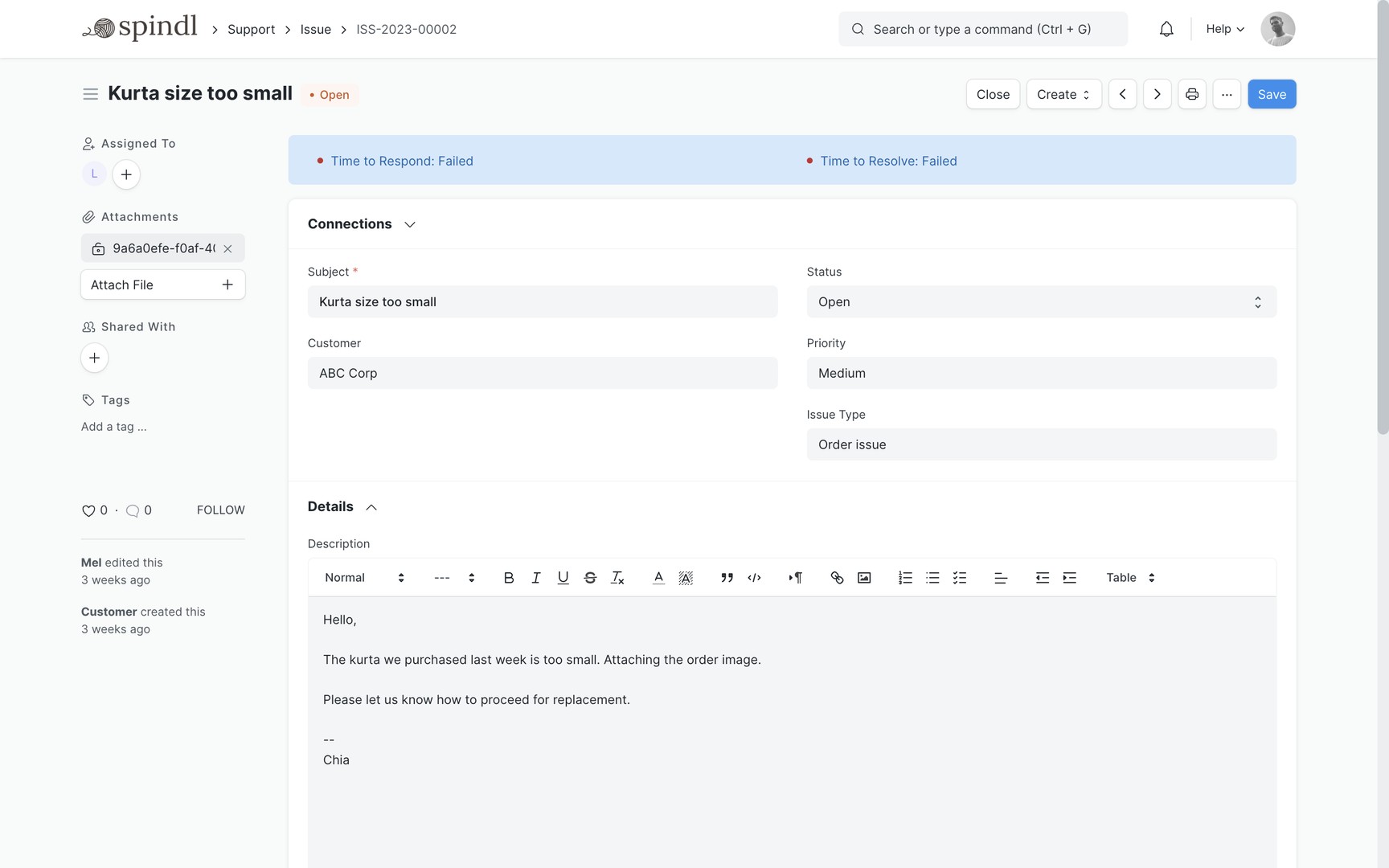 Service Level Agreement
Offering quick and quality resolutions to incoming Issues is not easy. Hence we have the Service Level Agreement feature to set and adhere to standards so that your Customers stay happy.
With Service Levels measuring time to respond and resolve, you can set targets and take appropriate actions to ensure that the Customers are satisfied. SLAs can be automatically applied to new incoming Issues. Support Hours can also be set to properly communicate expectations with your Customers.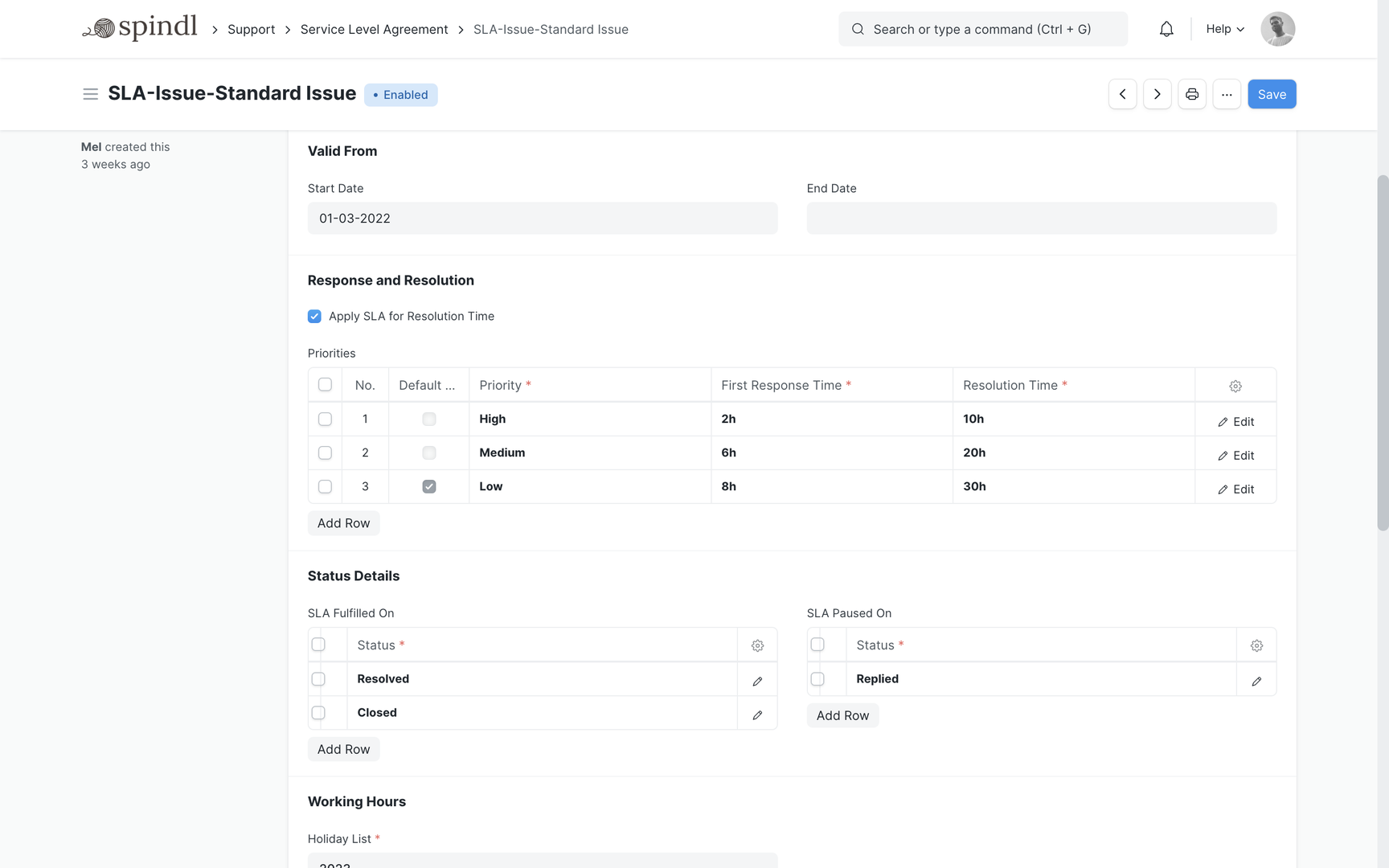 Record Warranty Claims
Record and manage Warranty and Annual Maintenance Contract easily for different Serialized Items sold to Customers. With Serialized Inventory, know exactly which units are in or out of Warranty/AMC.
For valid claims, set resolution and Customer details. If the Item is large or installed at the Customer's location, this can be handled with Maintenance Visits.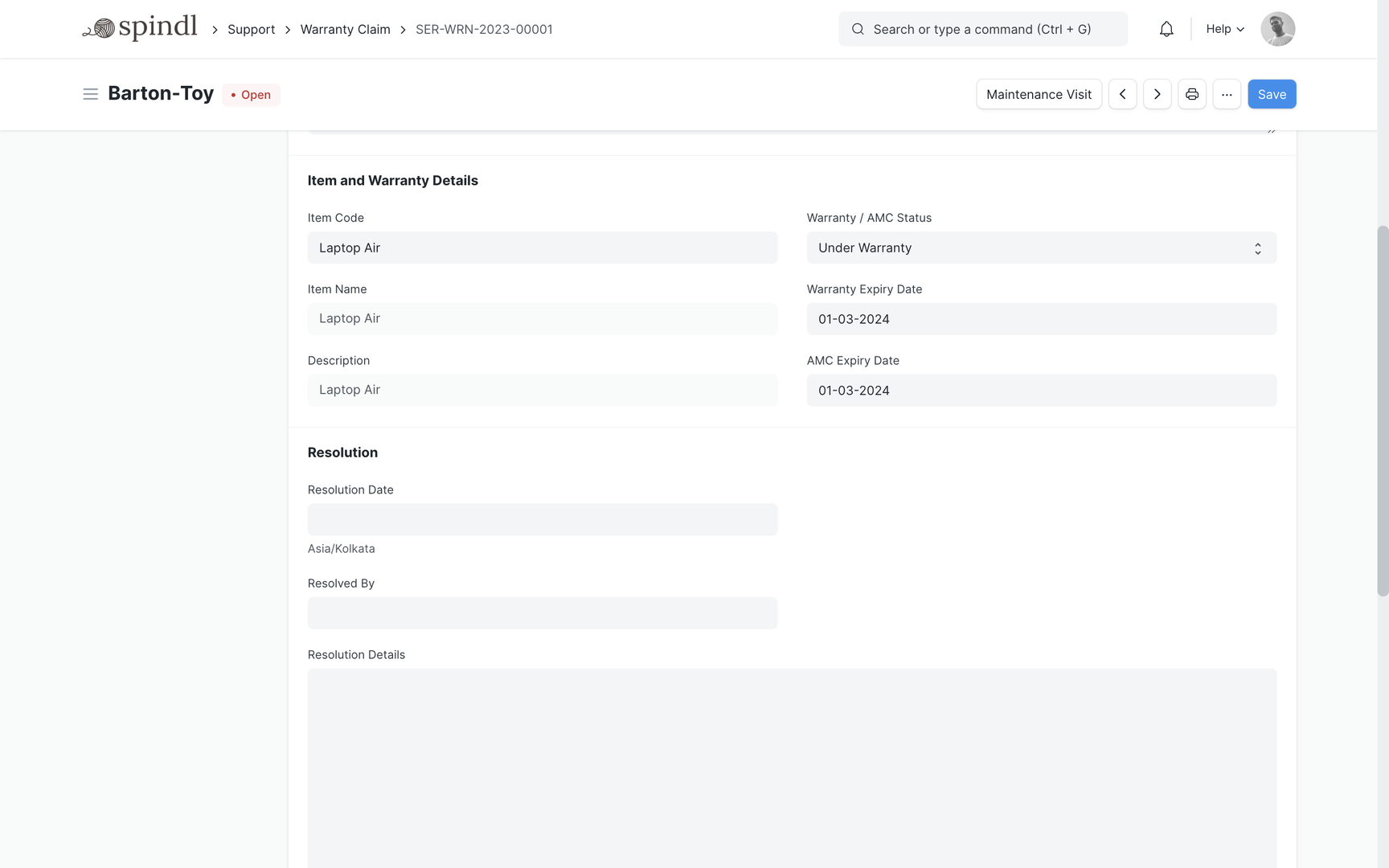 Maintenance Visit
When the Item cannot be brought to your center or servicing is needed at the Customer's site, Maintenance Visits are absolutely needed. Record the progress of the visits, scheduled or unscheduled. Record the person performing the visit and the work done.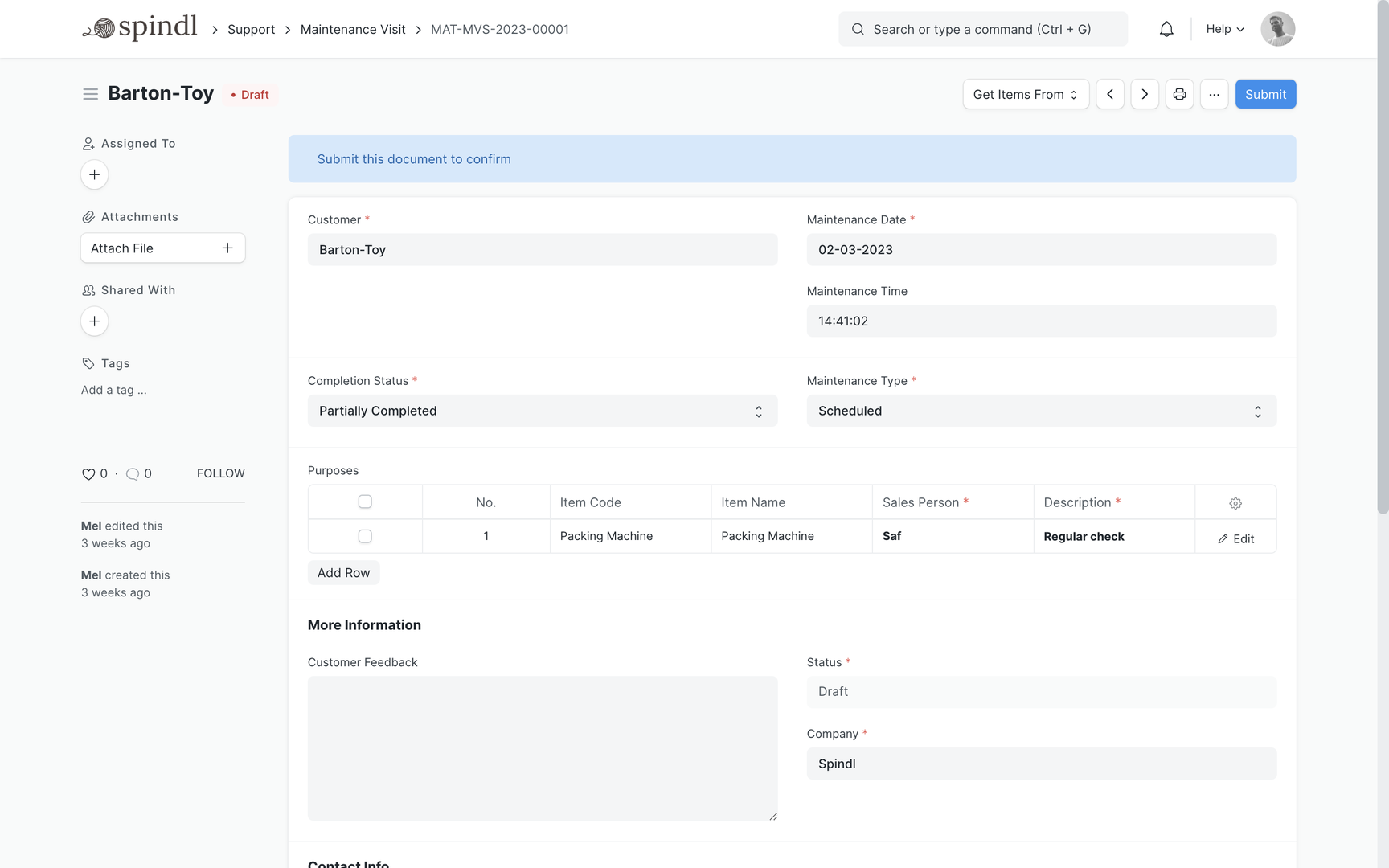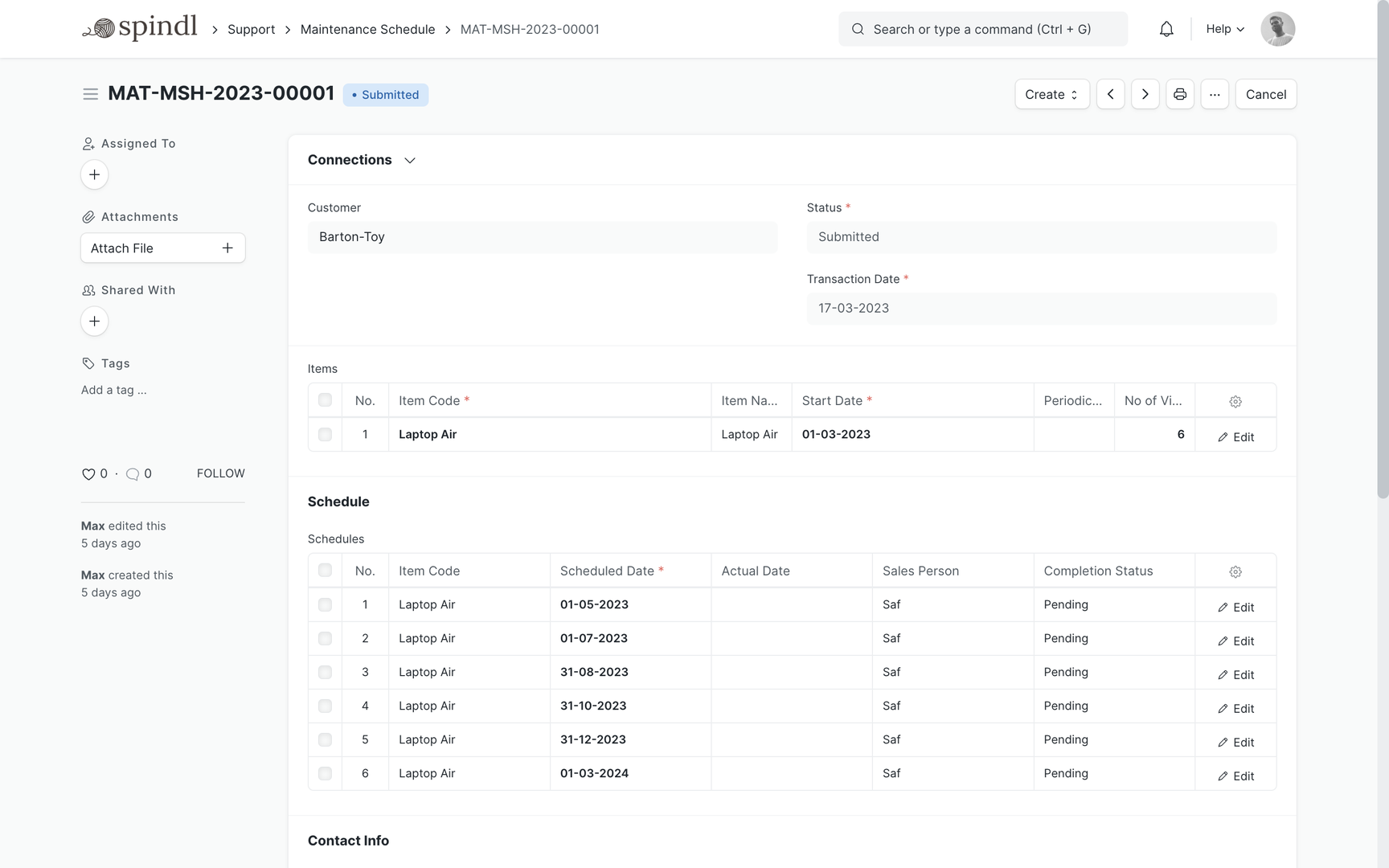 Maintenance Schedule
When an Annual Maintenance Contract is involved, regular maintenance visits are required to keep the service up and running at the Customers' end. Record these easily with Maintenance Schedules. With predefined periods, the schedule can be generated automatically.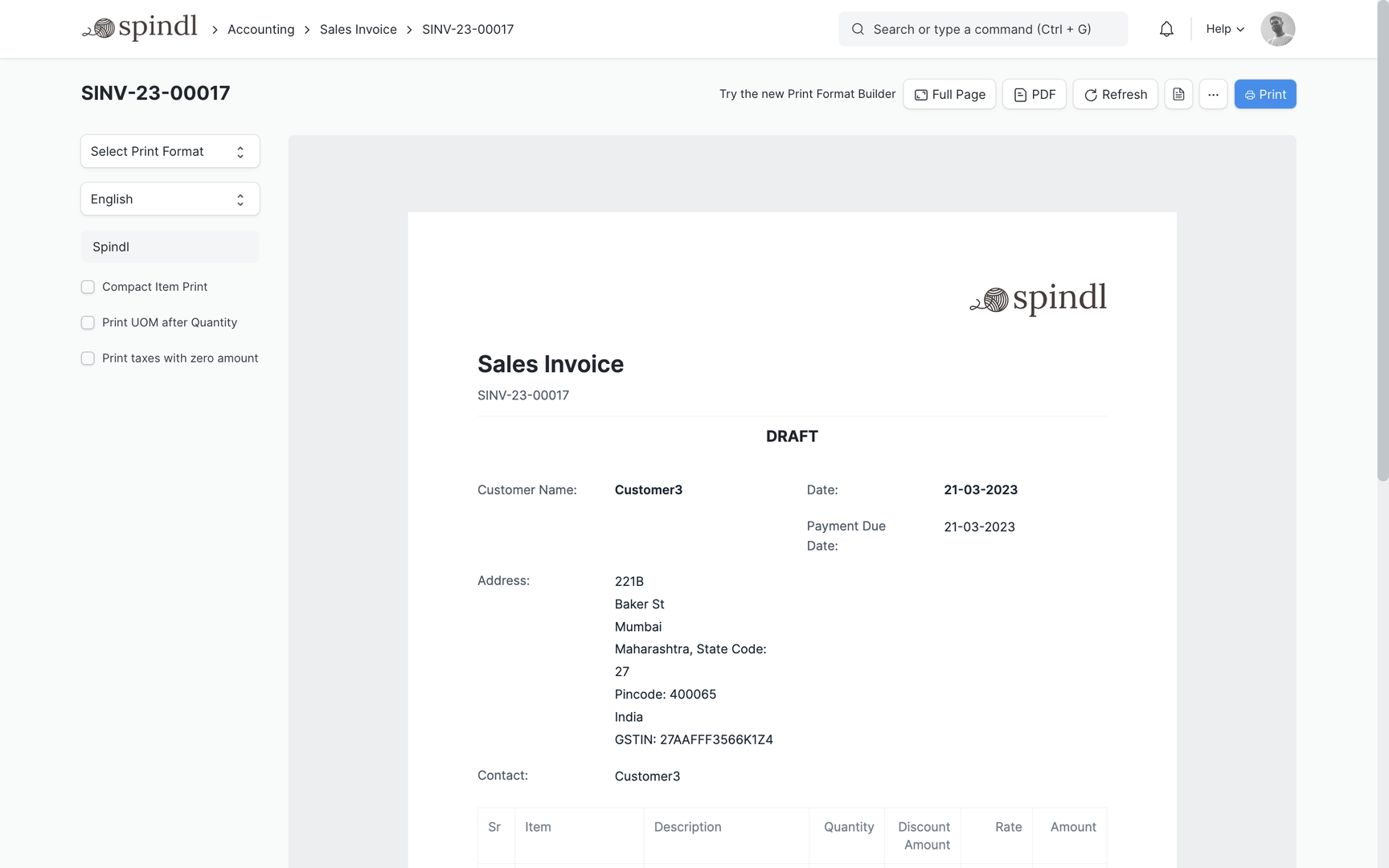 Billing And Pricing
Invoice your customers, chase receivable payments with payment requests and notifications via email/SMS reminders. Provision to create custom print format templates for bills in Jinja/HTML, and setting up defaults so as to facilitate faster processing of transactions. Handle your customer subscription billing life cycle from end to end.